There are only public threads, want to see private ? - log-in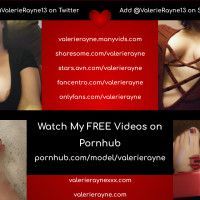 First Post on FetSide.com!
Hey all! Brand new to the site and figured I should finally make my first post. I've decided to go with my promo poster because I'm not really sure what I'll end up posting here (what do you want to see?).
I'm a 30-something wannabe kinkster, blog-a-holic, mom of six and adult content creator. I've been sharing my sexuality on the internet for about a decade and have been in a monogamous vanilla relationship for about as long with The Boyfriend (who you can see in our Pornhub videos).
If you don't follow me on Twitter, that's the best place to get updates:
http://twitter.com/ValerieRayne13
If you do follow me on Twitter, but want even more updates:
http://sharesome.com/ValerieRayne
http://stars.avn.com/ValerieRayne
Watch my FREE Videos on Pornhub (couple content) and xHamster (solo content):
http://pornhub.com/model/valerierayne
http://xhamster.com/users/valerierayne
Check out #SelfLoveSunday, my solo masturbation project:
http://valerierayne.manyvids.com/
http://modelhub.com/valerierayne
Get all my best #Footography by subscribing to my #OnlyFans:
http://onlyfans.com/valerierayne
And finally, check out my blog at http://valerieraynexxx.com/
Read more