Why You Need To Add a Spreader Bar To Your Toy Collection
Being into BDSM often means that you stay on the lookout for new toys and devices that are going to make your play more fun. A spreader bar can go a long way in bringing some additional spice to your BDSM activities, so you should totally get one if you haven't done so yet.
More Restraints Means More Fun
Spreader bars are a great way to ensure that your BDSM slave stays in position and "available" for everything that you may have in store for them. This is helpful not only for plain sexual activities, but also for a multitude of other scenarios, such as a spanking or basically any other form of punishment. If you get a spreader bar can have wrist cuffs attached to it, you're in for even more creative poses and ways to experiment with your partner. You can also aim towards new and different sensations by using ropes, ankle cuffs, or any other restraint device that comes to your mind with a spreader bar.
Spreader Bars Serve Both Practical and Playful Purposes
There are few BDSM toys that are as versatile as a spreader bar. If it's mostly pleasure you're aiming for, you can use the bar to ensure that oral sex is more enjoyable for both partners - the giving one won't have to worry about being squished between the receiver's legs, and the latter won't have to concentrate on keeping their legs apart.
If it's kink and restraint you're after, spreader bars will work great for you, too! For some people, the very idea of having their legs spread and being exposed to their partner is enough of a motivation to get a spreader bar. Engaging in BDSM play with a spreader bar is highly erotic, and it also builds up the levels of trust and intimacy between the partners.
Spreader Bars Are Generally "User-Friendly"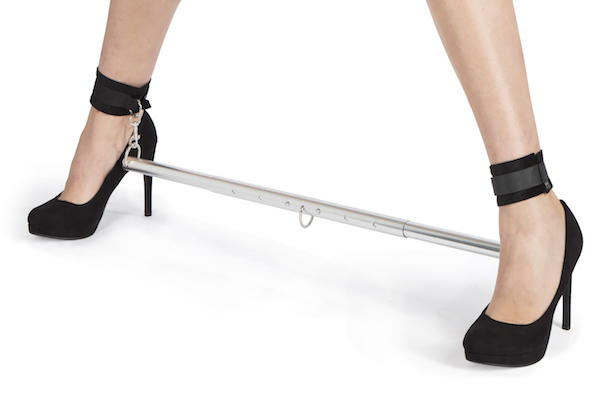 Some people may wonder why not just go all the way with an under-bed restraint system if you want more restriction in your activities. The answer is simple: the four-poster systems may do a great job restraining the sub, but they're also quite difficult to mount and offer little flexibility.
With a spreader bar, you're not "attached" to the bed, so you can move around your house or apartment freely. It doesn't have to be installed, and it is also much easier to hide from the eyes of possible visitors or c******n. Also, spreader bars allow for easy and fast position change, while under-bed systems require the BDSM master to untie the slave first, which may take quite a lot of time and eventually become a turn-off.